AUTO GLASS & WINDSHIELD REPAIR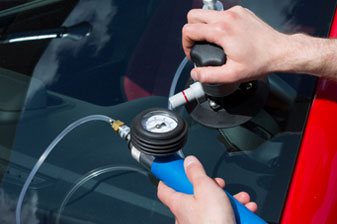 Damaged auto glass should be repaired quickly to prevent any further weakening of the structure of a window or windshield. Even a small glass chip or star fracture can quickly become a dangerous crack, increasing the need for a full window or windshield replacement.
The Premier Auto Collision Repair Center offers expert auto glass and windshield repair in Carlsbad. No matter how careful you are on the road, auto glass damage caused by flying gravel or debris is not uncommon. If this happens to you, bring your vehicle to us for a fast and accurate estimate. Our auto glass restoration center is conveniently located near Oceanside, Vista, Encinitas, Cardiff and San Marcos in San Diego County, CA.
The Premier auto glass repair technicians have extensive experience repairing and replacing auto glass and windshields. By using the finest adhesives, sealants and state of the art technology, we can restore your auto glass to its original condition and get you back on the road quickly and safely.